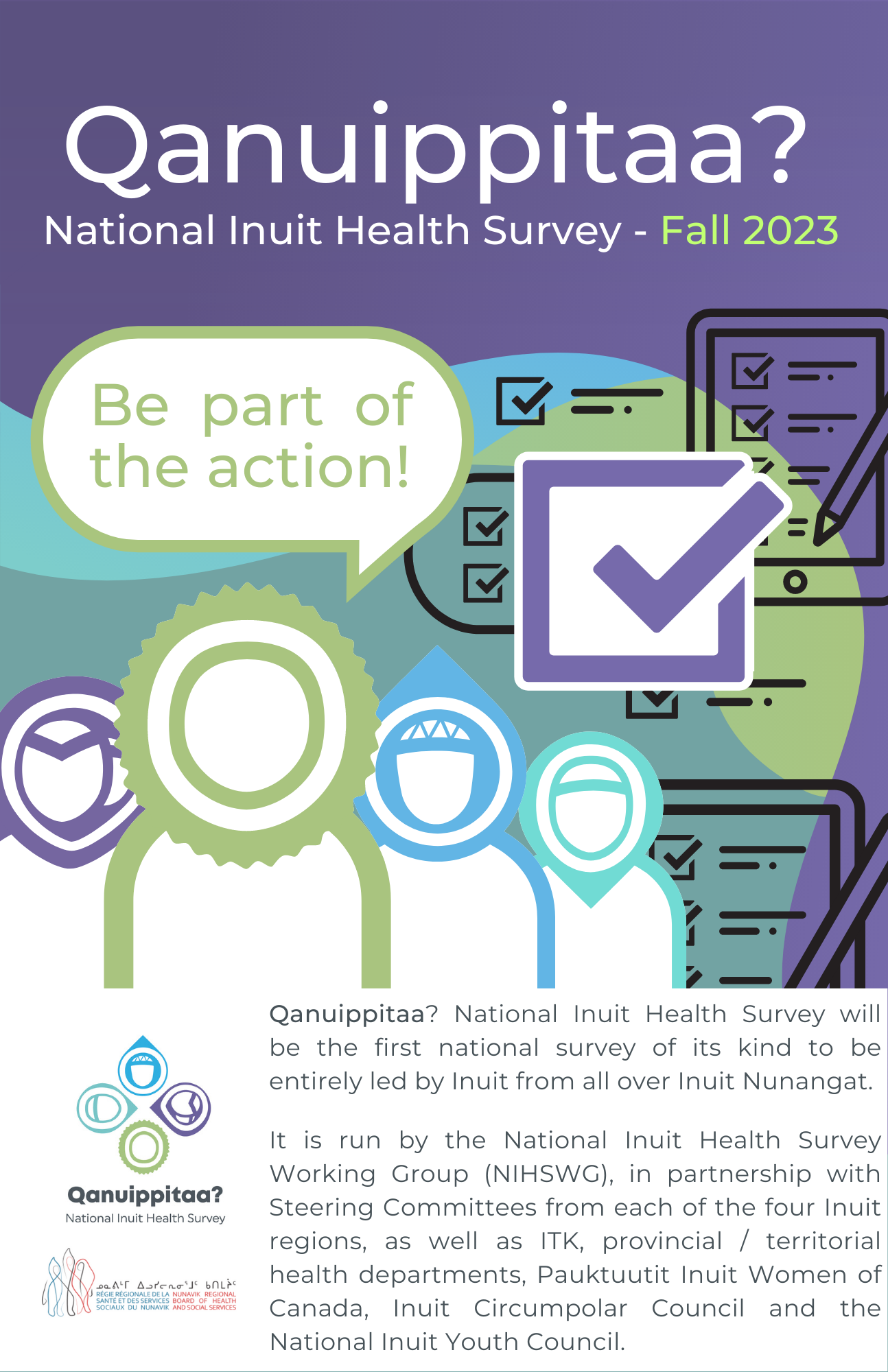 This new national survey, taking place in the 4 Nunangat regions*, will collect data on the current health of Inuit of all ages and from all Inuit communities across the country.
With the assistance of Inuit Tapiriit Kanatami, the national organization representing and advocating for the interests and rights of Canada's Inuit, the Nunavik Regional Board of Health and Social Services, in collaboration with Makivik Corporation, is currently working on the development and implementation of the survey, scheduled to take place in Nunavik in the fall of 2023.
The focus of the survey will be on the overall health of Inuit, including factors identified as important social determinants of Inuit health such as housing, food security, mental well-being, health services, safety and security, education, income, livelihood, culture and language.
A Collaborative Approach
The four Inuit land claims organizations, or their designates, in collaboration with Inuit Tapiriit Kanatami (ITK), working together on the co-design and implementation of a permanent population health survey of Inuit in Canada.
The National Inuit Health Survey Working Group (NIHSWG), in partnership with Steering Committees from each of the four Inuit regions, is leading all stages of survey development, implementation, and dissemination of results and reporting.
The NIHSWG includes members from all four Inuit regional organizations, as well as ITK, provincial / territorial health departments, Pauktuutit Inuit Women of Canada, Inuit Circumpolar Council and the National Inuit Youth Council.
Why a new health survey?
The Qanuippitaa? National Inuit Health Survey differs from previous health surveys that have taken place in Nunavik, in that it was developed by Inuit from across the country. It will continue every 5 years in order to collect up-to-date information that will allow regional stakeholders to better understand the evolution of the health status of Nunavimmiut, guide their decisions regarding the improvement of the well-being of the population and support policy discussions. The data collected will remain confidential and all requests for access to these data for research or scientific articles must go through a management committee.
Visit https://nationalinuithealthsurvey.ca/about/ for more information about the Qanuippitaa 2023 surveys.